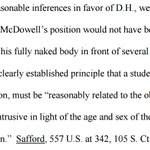 bradheath School strip searched a 12 year-old in front of other students, looking for pot (found none).
11th CIr.: He can sue. pic.twitter.com/ueqAhjg53D
bradheath FBI told the gunman to "Tear up Texas" before the ISIS-inspired attack in Garland.

More: thedailybeast.com/articles/2016/… pic.twitter.com/QaCY731RZb
Unfortunately, general public happily sacrifices privacy in return for convenience. If we want to preserve privacy, it must be the default.
Privacy is a highly contested right - first US court case dates to 1880 re: a non-doctor allowed into the room of a woman giving birth.
While privacy is a natural right, it is a litmus test of a society's will to resist authoritarianism. Privacy also fuels further resistance.
The right to privacy rests upon the premise that each individual is important enough to be entitled to an inviolable sphere of self interest
@evanbooth They're a bit too tough for my taste… almost as if they have a bone!