@JulieBorowski *shrugs* they'll have to take that up with my attorney, PGP.
a_greenberg The first week of the Silk Road trial has already been better than the entire first season of Serial.
@desantis @TechCrunch I don't rec sending BTC directly from Coinbase to illegal services; they track withdrawals & will close your account.
@desantis @TechCrunch FYI, the mining difficulty DOES adjust both upward and downward. We have had negative difficulty adjustments recently.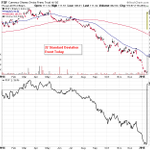 MktOutperform In case you were wondering, that was a 22 standard deviation event today in the Swiss Franc. $FXF $CHF pic.twitter.com/xrUDBdcNM4
Pessimists see BTC flaws as reasons the project has failed. Optimists see flaws as challenges to overcome & opportunities to provide value.
@ObsoleteDogma "It's too bad that Bitcoin doesn't have a way to steal wealth from users by manipulating the monetary supply!"
@ollekullberg BITCOIN IS THE WORLD'S BEST PERFORMING CURRENCY OF THE PAST 24 HOURS!!!1ONE