jgarzik PR 6722 includes something I've been pushing for years:
Expiration of not-confirming #bitcoin transactions in the mempool (def.: 72 hrs)
wikileaks ANNOUNCE: We have obtained the contents of CIA Chief John Brennan's email account and will be releasing it shortly.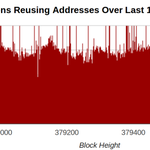 obpp_org How common is address reuse in Bitcoin? Here's the picture for the last 1000 blocks (~7 days) data via @LaurentMT pic.twitter.com/3z7VhLIqfr
Governments enact regulations to give businesses clarity, but then give regulators discretionary authority, creating regulatory uncertainty.