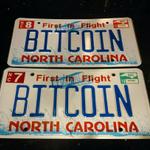 This may be the first time that DMV incompetence has ever worked out in my favor. I guess one's going on the wall! pic.twitter.com/N9npfPAqi6
If it was this easy for me to submit corrections to every book I read, quite a few authors would have benefited from my proofreading skills.
It's awesome that @aantonop is crowdsourcing the editing of "Mastering Bitcoin" on @github. I'm happy to contribute minor corrections.