@TaoOfSatoshi How do they decrease block space contention? They run their own semi-trusted chain that can be used as a caching layer?
@masonic_tweets @acityinohio Indeed; we're going to need the avg txn fee to approach 0.01 BTC in order to offset the subsidy halving O:-)
@theonevortex @Xentagz No, I mean from ~10 sat / byte to 40-50 sat / byte. Talking about fees in terms of pennies is nonsensical.
Higher txn fees ought to indicate more demand for bitcoin in general. The exchange rate has doubled during this period of fees quadrupling.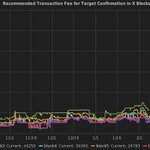 Recommended bitcoin transaction fees are 400%-500% higher than 6 months ago. pic.twitter.com/3ksHaJHQSY
One thing I'll note about miners selling preallocated block space: they won't be able to hide it. We are watching. twitter.com/OneMorePeter/s…