@MadBitcoins Because the cyberthreat is real. Cybernormals are cyberpeeing their cyberpants at the thought of cybernukes.
In conclusion, Lester Holt emerges as the clear loser of the first Presidential debate. Runner-up losers include everyone who watched.
HRC: We have cybernukes and we don't want to use them, but we will.
Trump: The DNC might have been hacked by a 400 pound bedridden American.
@TuurDemeester Depends on your config; more is better. Raspberry Pi with 1GB can run it, just not very performant.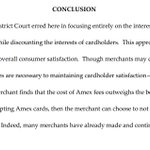 bradheath 2d Cir. rules in favor of American Express in antitrust suit brought by DOJ.
pic.twitter.com/PPer7AG31B
assertNotEquals("100% test suite code coverage", "100% coverage of all possible system states & code paths.");
@rbtkhn Segwit is enabled in 0.13.1; probably be released in October, though it will then require 95% of hashrate signaling activation.
Zcash's initialization requires 1 honest participant to ensure system integrity; reputation & size of group is key. twitter.com/zcashco/status…