@DigiEconomist Private key security issues disincentivize creation of large hubs on Lightning Network; we'll see how it plays out.
flyosity The original patent from 1891 for a toilet paper roll shows the correct rolling direction, in case you ever doubted. pic.twitter.com/fRI2ni1zGr
Big fan of Garry teaching gamers life isn't fair. Before this, players complained about random avatar penis sizing. twitter.com/garrynewman/st…
@TuurDemeester Does it appear that BTC is going up because ETH traders are fleeing back?
A common Lightning Network misconception is that fewer routing hops == lower fees. This ignores liquidity issues that will affect fees.
Should be fun to watch Bitcoin and Ethereum's scalability & privacy evolve in the coming years since they will likely take different paths.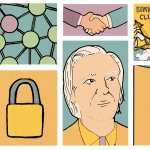 coindesk From @adam3us to @zooko, we review the cypherpunk movement's influence on bitcoin bit.ly/1qlAlmK pic.twitter.com/KHbZzkG0Xx