No bailouts for gamblers in Bitcoin.

On the bright side, prudent folks get to scoop up their assets at firesale prices.
@briankrebs Why do you hate freedom? Because some people abuse it?
@csuwildcat Is a pizza truly scarce when it can feed 100 million people?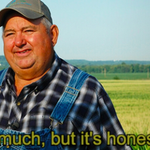 CasaHODL Helping HODLers not get rekt, one withdrawal from custodians at a time. #Bitcoin pic.twitter.com/qLJqPP9vSZ
The cost of living doesn't increase.
The value of your income decreases.