jgarzik When will a #bitcoin exchange offer USD/EUR in addition to USD/BTC & EUR/BTC?
Enables cross-border rails as well as added FX liquidity.
I'll be giving a presentation Saturday at @unccs' 50th Anniversary Symposium entitled "Block Chains and the Future of Trustless Computing"
ryanxcharles @lopp "How's the weather today?" "Stormy with a strong chance of reorgs."
@rubensayshi Yeah, I wanted to convey that these events have caused some turbulence, especially for folks running blockchain listeners. :-P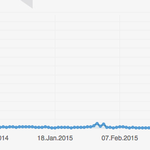 Recent testnet block storms visualized via @blockr_io pic.twitter.com/mf0GV1gbx8
Due to the recent events I'm calling "block storms," testnet's block height has gone from 20,000+ behind mainnet to 20,000+ ahead.
@PanteraCapital @dan_pantera Really wish folks would stop quoting wallet numbers without clarifying what constitutes a "wallet."