JtotheOE @lopp is bringing crypto to Mensa. Watch out for this dude. He understands what is under the hood of #Bitcoin.
You can lead a human to information, but you can't make it learn.
Had a blast at @BitcoinBeltway - 2.5 days just wasn't enough time to meet everyone. One thing is clear: lots of smart folks are innovating.
pig_poetry Beer and kimchi at Ramen Underground in San Francisco. Paid for with bitcoin. We toasted to the new economy. pic.twitter.com/sw6BWpqWZ6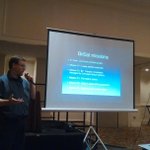 Core dev @jgarzik discussing the BitSat project to launch Bitcoin nodes into orbit. pic.twitter.com/v1rrfT2DO8
"I believe that Bitcoin is a measure of global instability. It is no coincidence that it emerged after 2008." @paradimeshift #bitcoinbeltway
"Switzerland is becoming a Mecca for cryptography and cryptofinance." Chris Odom, Monetas
@JtotheOE Sure am! If you want to meet up, I have a free hour at noon…