@jefft Can't wait for the Marvel vs DC movie
@MadBitcoins Yeah, no. Please don't believe things you read on reddit from anonymous throwaway accounts w/o fact checking.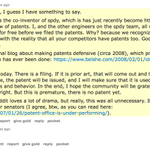 gigq @lopp this exchange sums up r/bitcoin pic.twitter.com/8b0mkfJ8w2
@JohnMardlin @BlockCypher It exposes edge case bugs; if I can handle the testnet mess gracefully I sleep better at night about mainnet.
@JohnMardlin @BlockCypher Sounds like a great way to get started building apps. I'm personally grateful for the testnet attacks :-)
@LoopyBit I don't know and it's not up to me; addressing this issue is obviously a high priority given the community's reaction.
@LoopyBit I'd recommend waiting for BitGo's official statement before you spend too much energy spinning your wheels.
.@LoopyBit BitGo is not trying to patent the Bitcoin protocol. We'll be releasing an official statement soon.
The latest block storm has rolled into testnet; batten down the hatches. Just saw an orphaned chain that was 100+ blocks long.