Core, noun: the central, innermost, or most essential part of anything.
One could argue it's antithetical for Bitcoin to have a core.
Jim_Edwards BAML's Michael Hartnett nails it in two charts and one funny caption. pic.twitter.com/5waGVuwDk4
Hard forks: simpler code, more complex to deploy.
Soft forks: more complex code, simpler to deploy.
Each should be used when appropriate.
@evanbooth This captures the essence of Fayettenam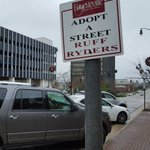 evanbooth Nothing says "gangsta" quite like being a responsible citizen. pic.twitter.com/BLNtBEHHgE