It is a cypherpunk's duty to attack the code & concepts created by fellow cypherpunks, but care should be taken to avoid ad hominem attacks.
Which would your prefer to read an article about?
@bitkongme Maybe some day… it's been at the bottom of the TODO list for a while.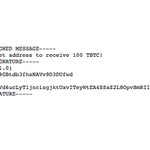 #FaucetFriday is now open for all developers who want to build with Bitcoin.
pastebin.com/raw/ns6xtfrf pic.twitter.com/FL2fPzepSD
@bamos01 Strategy could be used for any cryptocurrency, though it's not quite clear when/if Bitcoin will fork.
Valid trading strategy?
1) Buy a cryptocurrency pre-fork
2) Hope fork creates 2 tradeable currencies
3) Dump both
4) Profit!