@danheld The yield is so fine this year that it fills the air!
@FreedomIsntSafe What if I told you that there is precedent for children defending themselves with firearms.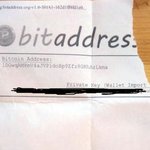 Disaster porn
blockstream.info/address/1DGwqA… pic.twitter.com/cFQkb9AqMO
@RichardRed0x There's certainly a lot of grinding required early on.
Twitter is the best MMORPG.

Change my mind.
The bitcoin exchange rate is mainly interesting as a measure of global financial ignorance.
@NeerajKA Don't play games in which the counterparty gets to dictate the rules.
'Tis better to have bitcoin and not need it than to need bitcoin but not have it.
This was a Denial of Service exploit; I'm not seeing the "steals funds" part unless you stretch to assume the node..twitter.com/i/web/status/1…0X