@badcryptobitch I've used both as daily drivers and System76 has given me fewer headaches.
@danheld I HAD ENOUGH PEOPLE TELLING ME THAT IN 2012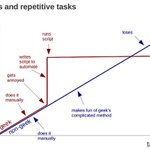 CODE IS LEVERAGE pic.twitter.com/LJ7Wb9iWRk
@Lisa888000888 Recovery setups can be created that don't give them insight into the balance until after your passing.
No good can come from revealing your bitcoin balance to friends or family.