robustus So now we have Chipotle drafting bitcoin hard-fork policies, and Tesla reporting vulns in BTCPay Server. Nice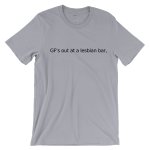 For the OPSEC-conscious HODLer
satoshigraphics.com/products/genes… pic.twitter.com/LZWsu6kzUF
Your government cares about your well-being in the same way that a farmer cares about his cattle.
THE "JOURNALISTS" WHO CONVINCED YOU THAT BITCOIN WAS A PONZI SCHEME ARE, IN FACT, THE TRUE SCAMMERS
@bearrun If your current jurisdiction becomes too authoritarian for your tastes, vote with your feet and GTFO.
The past year has solidified in my mind the value of being able to move to a new jurisdiction with little friction.
The past year has offered plenty of opportunities for self improvement. Are you taking advantage of them or are you..twitter.com/i/web/status/1…I6