you can either be
too strong to fail
or
too weak to try
It's not the fastest or most efficient method, but there's something primal and satisfying about trussing meat and roasting it on a spit.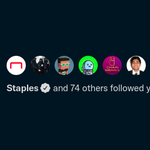 oh no what have i done pic.twitter.com/SQiG2xzOkP
@badcryptobitch SORRY YOUR LAST PAYMENT BOUNCED
YOU ARE NOW BROKE AND NOBODY WANTS YOU
Nation states can continue conducting currency wars or they can switch to a standard that can't be controlled by any country.
Listened to some "experts" on NPR discussing inflation and they managed to blame it on half a dozen things while ne… https://t.co/GJHz79BCtP
RT @BusinessInsider: The crypto boom has created a new class of quasi-celebrities, with those who made early bets on #crypto now hailed as…
Why are politicians with 9 figure net worths asking us for donations of a few hundred / few thousand dollars? If y'… https://t.co/qIEpeik3go
@kanemcgukin I'm up in here breaking your actuarial tables
Despite having a perfectly clear record and not filing a claim in 20 years, I regularly get denied coverage from in… https://t.co/GjWLlcdI5F
Imagine still having faith in institutions.