You're pinching pennies.
I'm stacking satoshis.
We're not the same.
Pretty sad the takeaway was "don't answer the phone" as opposed to something like oh, I dunno… "don't leave your… https://t.co/2diSD31bIy
@NeerajKA yeah they don't even have laces so it's probably easy to pull off
If all your wealth is in one
asset
bank
brokerage
country
currency
fund
… then you're playing financial roulette.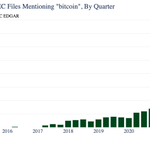 Institutional interest charts…
H/T @coinmetrics pic.twitter.com/5Nhz6VqmHq
Bitcoin is for terrorists
and drug dealers
and dictators
and dissidents
and protestors…