@kristovatlas A much louder sound than someone who is censored in a huge subreddit…
Words are weak; code is powerful. Code enables individuals to form voluntary networks based on self-enforced rules. Cypherpunks write code.
@kristovatlas If most people prefer a highly moderated / censored forum and that works for them, that's their choice.
@kristovatlas I don't care if /r/bitcoin is eclipsed by another sub either, I just want people to have a forum where they can speak freely.
@kristovatlas *shrugs* "you" includes you; no one is stopping you from posting whatever you think is worthy of discussion.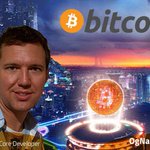 rogerkver Mike Hearn, creator of Lighthouse, bitcoinj and Bitcoin XT is doing an AMA session now at: forum.bitcoin.com/ama-ask-me-any… pic.twitter.com/ckemYdMLjX