@desantis The BIP101 fork didn't last long; @jtoomim switched back to mining with Core after causing the fork.
@desantis Yeah all my nodes are at the height 600,000+ though my services on testnet couldn't handle the chaos very well either.
@desantis Not sure; it has been chaotic. There was the BIP101 fork, then I think a bunch of CLTV forks, then a block storm w/10,000+ blocks.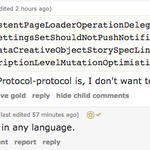 pinkyswearing r/programming discusses how the bloated Facebook iOS app has over 18,000 classes; this comment wins the whole thread pic.twitter.com/kEm4bQIcOS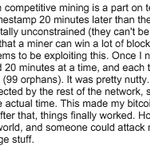 I think the testnet difficulty reset rule should be changed to make it less gameable & to prevent block storms. pic.twitter.com/jKS0BSDdVD
@MyceliumCom Looks like your testnet server is down; testnet is pretty chaotic at the moment.
"Hey, this site is useful, I should bookmark it!"
*clicks Bookmark*
"Edit Existing Bookmark?"