Bitcoin è l'uscita per la libertà  finanziaria!
@outragedhuman Indeed, there are many variations of this gif at various trajectories and velocities 😊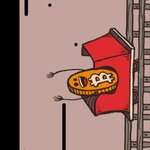 Thanks to all of you for joining me on this wild cypherpunk ride! pic.twitter.com/74551Ri0VT
Santa is coming and he's bringing green candles for all the bitcoin HODLers. Happy Holidays, everyone!
RT @TuurDemeester: #Bitcoin traded in the $800 range for less than 48 hours. The winter of 2013 is back, and the public at large isn't even…