@vipul982 My understanding is that you should be able to use fairly common hardware to connect.
Critics: "Bitcoin is flawed because ISPs could block the protocol."
Bitcoin: "Where we're going, we won't need ISPs."
If speculation of 1M BTC ownership is correct, Satoshi Nakamoto is now wealthier than @realDonaldTrump
Haters gonna hate.
Whiners gonna whine.
Cypherpunks gonna write code.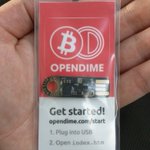 Unlimited private off-chain scalability in the palm of your hand: @OPENDIME pic.twitter.com/l3KWVOzedC