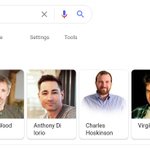 @nic__carter Sheeeeeeeeeeeeeeeeeeeeeit pic.twitter.com/omGaYEGAJJ
"For the record, and I want to be very clear about this: my #1 reason to [advise companies about bitcoin] is to hel..twitter.com/i/web/status/1…Qc
Cops are like a box of chocolates…
.
.
.
.
.
.
.
.
.
.
.
.
… they'll kill your dog.
@nvk Yeah it's a common form of PR. Lots of "awards" that companies list on their web sites are pay-to-play.
Q: What do Bitcoin bulls Wences Casares and Michael Saylor have in common?
A: They both lost money in Argentinian currency collapses.
"In the crypto industry there are two competing schools of thought.

You can decribe crypto as "Vegas in cyberspace..twitter.com/i/web/status/1…XL
@nic__carter easy peasy LbQnQe50FM81CfrkbMzmUr8dW*14AJ8W*wDSFv44MPxdzz7B3cRyYjwo1LlK&^TbwG44BFMWr&s^uQT8zUWmbN7ysZ0CgqHpe!l
"Bitcoin is an ark of encrypted energy to escape the flood of a currency collapse." - @michael_saylor