@Lord_Ashdrake SIR, THE BITCOINS ARE THE MONEY. WHY WOULD YOU TAKE YOUR MONEY OUT OF THE MONEY?
"If you leave a negative review of a product on Amazon, Amazon shares not only your review but also your account de… https://t.co/SI9CY3YQ94
Freedom from trusted third parties
Freedom from arbitrary authorities
Freedom from biology
Freedom from gravity wells
Freedom from spacetime
Many talk about Warren Buffett's wealth.
Few mention that 95% was generated after he was 60 years old.
After spendi… https://t.co/nLmOylzNXC
A highly underrated skill is the self control to prevent envy from moving your own goalposts for success.
One case and they're back in lockdown. What a different relationship with the value of freedom. https://t.co/IjbrsxSTxU
Americans spend more on lottery tickets than on movies, video games, music, sporting events, and books combined.

B… https://t.co/DjCjAtsTkc
Twitter has democratized dunking on authority figures. Thank you, @jack!
@MarkHerringVA You already lost. Resistance is futile, but entertaining!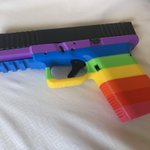 It will have a hard time shooting straight but it's still FABULOUS! pic.twitter.com/xiYQvVXFff