@TuurDemeester "JUST TESTING MARKET DEPTH FOR SHORTING OPPORTUNITIES!"
Oh nooooooooooo the Dogefather doesn't understand Proof of Woof whaddawegonnadooooooooo
@elonmusk It's a feature, not a bug. Educate yourself.
I kid you not, I have had people argue with a straight face that I can't call myself a software engineer because re… https://t.co/KqLfLeCKwS
Short term crypto exchange rates are easily decoupled from fundamentals during mania phases. Remember that price di… https://t.co/YfUcyfiBcE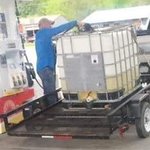 OH NO
THAT'S NOT A GOVERNMENT APPROVED CONTAINER pic.twitter.com/kglh3Jmoee
RT @bitcoinbrink: The current round of Brink grant applications ends May 17th, so developers working on Bitcoin open source projects, apply…
@HODLHanger IIRC it was the revenue act of 1861 meant to fund the Civil War.
The original American income tax was also "transitory."
Ladies, if he…

* says he'll protect you
* makes you ask permission
* takes a cut of your paycheck
* beats you if… https://t.co/1XRRWnHtoB