@jiceman It's in their 2021 annual report PDF.
Bitcoin's 30 & 60 day exchange rate volatility averaged around 4% during 2021, over 1% higher than the previous yea… https://t.co/fOyXh5Xstn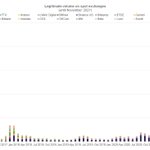 Crypto exchange trading volumes have blown away previous historical records throughout 2021. pic.twitter.com/JofWgUXrD8
Bitcoin Why is proof of work important?

Because humans can break any laws made by humans but none made by physics.
Crypto industry venture capital funding:
2012: $23M
2013: $120M
2014: $368M
2015: $850M
2016: $850M
2017: $1,200M
2… https://t.co/qGmijevYRF
The Matrix 4 suffers from a severe case of huffing its own farts. It's so self referential that it's cheesy.