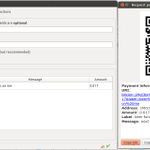 Sneak preview of the new "request payment" feature coming up in Bitcoin-qt 0.9 pic.twitter.com/FkDX2C1rbu
Many people (correctly) claim that Bitcoin is not useful as a currency due to its volatility. They haven't seen this: coinometrics.com/bitcoin/bvix
ncpolicelogs Emergency personnel are advising citizens to not have heart attacks, go into labor, or have other medical issues at this time.
@MichaelCasp Please keep us updated as you enter hypothermia.
@MichaelCasp This will be the most sparsely attended Duke / UNC game in recorded history.
Snowpocalypse, y'all. Raleigh / Durham is the new Atlanta. WHO'S TO BLAME?!?!? Hint: everyone who ignored the weather forecast.
DPAC @ebsmith324 Unfortunately Book of Mormon cannot be rescheduled. Touring Bway shows don't cancel regardless of local weather/road conditions.
BenDoernberg How much faster is the Dogecoin subreddit growing than Bitcoin and Litecoin? Here's a graph redditmetrics.com/r/dogecoin#com… pic.twitter.com/jkrOgWmdyo
I haven't experienced such onslaughts of hatred since being bullied in school. Spreading truth isn't for the thin skinned, eh @aantonop?
@pmccall777 I recommend not doing the "work your whole life" part unless you find great pleasure in your work.
Lots of news media declaring Bitcoin hobbled / dead this week. Very good news, IMO, as previous experience means this is capitulation phase.