Trailer: "The Rise and Rise of Bitcoin" - film will be released in 7 days at Tribeca Film Festival. https://t.co/m3aBQ9SvOj
Spending this morning trying to resolve Spring / OpenJDK compatibility problems in Eclipse. AKA the 7th circle of developer hell.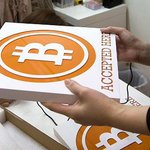 CNBC Find out about 'the bitcoin uprising.' Watch the full documentary here: cnb.cx/1gFLEhr pic.twitter.com/Re8DsdDoxl
@petertoddbtc Sorry Peter, it appears that Redditors are too ignorant to understand what you are saying.