Someone's trying fairly hard to spearphish @coinbase users with emails claiming there is a new user agreement that must be reviewed.
@matthew_d_green @secparam If Zerocash tx details are private, how do we prove no one has exploited a hole to spend coins that don't exist?
@pmccall777 Sure, the "I've got nothing to lose" mindset. I'd say first worlders stifle themselves thinking that they have too much to lose.
@pmccall777 Not necessarily. For example, look at people in 3rd world countries who risk a lot to sneak into first world countries.
New charts are now live on statoshi.info: UTXO set attributes, TX mempool, TX cache, block height, & block announce metrics.
I believe that far too many people risk far too little. They spend their lives avoiding danger. Then, after a long, low-risk life, they die.
secparam With a 1kb tx, zerocoin/cash hides you among everyone in the system, bytecoin/ring sigs/conjoin hyde you amongst at most 30 people(1 of n)
@Jeremy_DeGroot That's fine; the important part is that the information is peer reviewed. If rejected by peers, the rejection will propagate
When you trust an authority for information, you don't have knowledge, you have faith.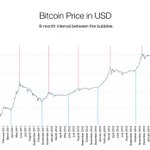 oleganza Bitcoin bubbles form every 8 months on average. pic.twitter.com/YJ9L0zfbUt