@prestonjbyrne It's amazing how so many people have the ability to predict the futures of alternate timelines.
@ajtowns Ideally this would always be the case, but I'm quite sure many txns are automated / not presented to a human for a fee decision.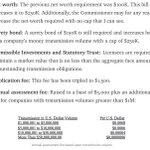 Sounds like nothing has changed since we last looked at it, meaning there are many concerns. coindesk.com/blockchain-dig… pic.twitter.com/okDpmACDpU
@bedehomender Miners collect whatever transactions are paying the highest fees.
@el33th4xor I guess it could ratchet down if enough users stop using Bitcoin :-P
6) As a result, it seems that an increasing exchange rate is another factor that pushes low value transactions off of the network.
5) Thus it appears that if blocks remain full, the fee rates remain the same in terms of satoshis per byte regardless of exchange rate.
4) This creates a fee rate standoff: there's a first mover disadvantage to lowering txn fee rates to compensate for increased exchange rate.
3) If the exchange rate spikes & a wallet decides to lower the fee rate it pays, those wallet users will now suffer from delayed confirms.
2) As the BTC / fiat exchange rates go up and down, fee estimate algos don't take them into account because they are irrelevant to miners.
1) All Bitcoin txn fee estimate algos I've seen are based upon the satoshis per byte that recent history shows is needed to get confirmed.
@alansilbert There were some suspiciously low fee txns, though IDK offhand what % they comprised the spike.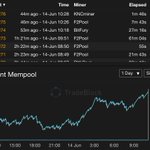 Four blocks in the past 2.5 hours + mempool spike = unhappy customers. pic.twitter.com/93EqdUY2p2