@pierre_rochard Though it seems that @eris_ltd is doing a pretty good job handling the "worst case" scenario for smart contracts.
@pierre_rochard I think it comes down to: best case scenario, they blow normal contracts out of the water. Worst case: neightmare.
@AlpacaSW @dgenr818 @santisiri If you're running reasonable contracts that don't screw over a significant portion of users, should be fine.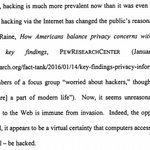 bradheath Federal court: Computers connected to the internet aren't private, have no 4th Am. protection. Expect to be hacked. pic.twitter.com/dHK1g9LpJh
4) Thus you shouldn't use a public permissionless blockchain unless you believe most people are moral & rational. I, for one, do believe it.
3) Historically, this only tends to happen defensively when an individual first screws over a decent portion of the collective userbase.
2) That is: if "everyone" using a public blockchain decides it's in their best interest to collectively screw you, you will get screwed.
1) Public permissionless consensus systems let you use them w/o trusting any one individual. However, you must trust everyone in aggregate.
@dgenr818 @santisiri It's not a bug in ETH, but meatspace consensus is that the bug should be corrected…
@WhalePanda The issue is code execution vs intent of the code devs. It's not a coincidence that both incidents received the same response.
@santisiri seemed different initially bc the bug was at app layer, but now there are good arguments that protocol layer wasn't well defined.
@santisiri If by "real bug" you mean the code did not execute the intent of its authors… I don't see the difference.
One perspective: both "billion BTC" & "DAO attacker" get to keep their tokens, but everyone else has decided to use a different blockchain.
@fluffyponyza Either way, it appears that intent is more powerful than code when it comes to distributed consensus systems…
If DAO attacker deserves to keep tokens b/c they followed rules, doesn't whoever created 184B BTC in 2010 as well? 🤔https://t.co/324157Vz5W