@Bit_Fink I always keep a few % in traditional assets. 😏
@CGDMedici D'oh, I knew I'd forget some. It's certainly not bitcoin.
A few things that are not bitcoin:
all exchange IOUs
Robinhood BTC
Revolut BTC
renBTC
L-BTC
WBTC
sBTC
BCH
BSV
BTG
BCD
In order to successfully self custody, you'd better eliminate single points of failure with extreme prejudice. https://t.co/DWXVhGMBEN
@oscpacey Yeah, if the users are paying the on-chain fees why bother?
It's incredibly irresponsible to invest 100% of your money in one asset class, as this creates a single point of fa… https://t.co/M9syD5C517
@TimerOlde Yeah, it's tricky because many users probably don't even know that they're paying higher fees than necessary.
You should be highly skeptical of the engineering skills and business priorities of Bitcoin wallets / exchanges / s… https://t.co/EcN0Ru9Qmn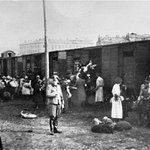 Same shit
Different century pic.twitter.com/0M3p1zptqJ