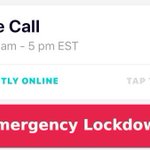 @twobitidiot Casa has The Big Red Button pic.twitter.com/NlrkGJyJQR
`bitcoin-cli getblockhash
$((678059+20)) | cut -b64 | grep -q '[02468ace]' && echo MTP || echo
height`

I support t..twitter.com/i/web/status/1…bS
It's called a bull market.

I'd expect this statement to hold true for any crypto company with a halfway decent bus..twitter.com/i/web/status/1…RV
Imagine being one of the oldest and largest companies in the Bitcoin industry and only owning 5% as much BTC as @MicroStrategy
@AnitaPosch @Ghost I am self hosting; it has been very stable for the year or two that I've been running it.
You have the right to be an asshole.
This right is best exercised sparingly.
Beware when authorities try to take this right away.
Some of the biggest OG Bitcoin whales have fewer than 1,000 Twitter followers.
The wealthiest people in the world do not disclose their holdings to the folks who publish wealth rankings.
EVERY TIME A BILLIONAIRE GETS TRIGGERED

A MEMELORD GETS ITS WINGS