@johnjoseph Shoulda started off with a Dogecoin pitch.
There's a category on Jeopardy tonight called "Athletic Cups" TROLOL
I laughed when I initially heard about Dogecoin, but the Dogecoin community has done more in a month than Litecoin has in years. Impressive.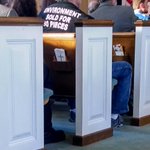 Dragged to Christmas Eve church service. At least I have a great view. Lulz. pic.twitter.com/6pf1yq50g4
@emilepetrone Nope. My research has shown that my LLC is not subject to quarterly taxes because it is only being used to manage a Roth IRA.
@mikestable A checking account will suffice for my purposes, for now…
Pleased to report that I have just filed an SS-4 to form Lopp Holdings, LLC. More news to come in early 2014 :-)
@matthew_d_green Apparently there's no activity on the Zerocoin dev lists? How can I best stay informed? Any ETA on alt-coin release?