@1cyrilblanc1 BTC price has seen greater volatility in past week and there wasn't even a fork.
@1cyrilblanc1 No, I'm making a point that it appears in the history of cryptocurrency, a hard fork is never fatal. Even for Bitcoin.
@opspryde @bergalex IMO "risk" of a hard fork is due to devs never setting a timeframe for node operators to need check for updates.
@opspryde @bergalex I don't favor one over the other, in fact I favor both. I wish segwit would be a hard fork so that the code was simpler.
@bergalex Indeed, as have number of other cryptocurrencies. Can you find one that hasn't survived an unintentional fork?
@bergalex I specifically left Bitcoin out of that tweet, but remember Bitcoin forked when it had a several hundred million dollar market cap
@LaloLamba @kristovatlas There are some devs who claim that the Bitcoin fork wasn't "hard" - I prefer not to debate such trivialities.
I'm having trouble finding examples of any cryptocurrencies that had a fatal hard fork, intentional or otherwise… anyone know of any?
Cryptocurrencies that hard forked & survived:
Auroracoin
Darkcoin
Dogecoin
Monero
Namecoin
Nxt
Peercoin
Solarcoin
Stellar
Vericoin
Vertcoin
@Xentagz It looks like they're planning on using the BIP101 signaling logic with 75% of trailing 1,000 blocks.
@jm111t Current support is conceptual; it shouldn't take long for the code to get merged and builds produced.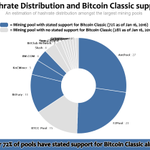 Bitcoin Classic is on a roll - F2Pool announces their support, bringing hash power to 72%. bitcointalk.org/index.php?topi… pic.twitter.com/VdxQWQOvNx