7) IMO each proposed change to Bitcoin's consensus rules should be evaluated on its own regarding if it's best suited as a hard or soft fork
6) Hard forks can be used as a countermeasure against soft forks adopted by miners without the ecosystem's consent.
5) Soft forks can be used to counterbalance hard forks that remove too many restrictions from the previous version of the protocol.
4) Soft forks degrade security for nodes that don't upgrade.
Hard forks break security for nodes that don't upgrade.
3) Soft forks require a dozen entities (mining pools) to upgrade.
Hard forks require thousands of entities (nodes) to upgrade.
2) Trade-offs between hard & soft forks are complex; neither type is inherently safer. Either can be detrimental to the ecosystem.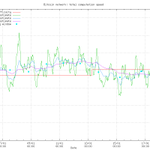 Hello, exahash era! bitcoin.sipa.be pic.twitter.com/Ev09ivhoct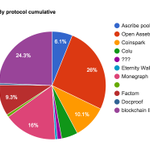 RCasatta Updated #blockchain #op_return stats. Protocols are now grouped. Here is the new pie. opreturn-976.appspot.com pic.twitter.com/kROTKLj4Ov