@prestonjbyrne A mantra one of my instructors drilled into us: only use your pistol in order to fight your way to your rifle.
jgarzik #Bitcoin approx avg transaction fee, in USD terms, has increased 206.8% since Jan. 31, from $0.073 to $0.224
@flyosity Safe fireworks? That's downright unamerican!
Decade-long antitrust fee-fixing suit against Visa & Mastercard suffers setback as $7.25B settlement is thrown out. https://t.co/1bPqIaLN7P
After 2 years in the red, weathering lows of -50% ROI, Lopp Hodlings LLC is now in the black at +55% ROI. No selling, just buying & hodling.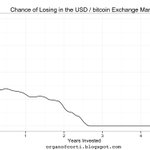 oocBlog @lopp @KaikoData "Chance of Loss": howto using kaiko.com Price index API
goo.gl/1Xzdd4 pic.twitter.com/OnBWdkm6eb