Infrastructure improvements reduced the scarcity of food. The Internet has reduced scarcity of info. Now humans mus..twitter.com/i/web/status/1…wi
@Nikhil25257582 Not gonna limit myself to one gravity well; need to digitize and distribute my consciousness across the universe.
Lambos are overrated. I'm HODLing out for a holodeck, life extension technology, and a ticket off this god forsaken rock.
@BitcoinErrorLog Sure, privacy and other use cases could command a premium.
Q: How much does it cost to mine 1 bitcoin?
A: Approximately 1 bitcoin.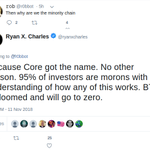 @ryanxcharles Any day now. Annnnnny day… archive.md/7ya10 pic.twitter.com/2AAXFj7Eb8