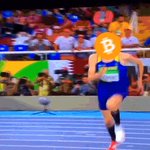 Vegeta in the rear view; it's your time to shine @JimBTC pic.twitter.com/ijslAymHtL
In 2014 an anonymous whale put up a 30,000 BTC ($9M) sell wall that kept the bitcoin price under $300. 4 years late… https://t.co/i8cjpBIB11
CasaHODL The best time to strengthen your bitcoin security was yesterday.
The second best time is today, before an attack or disaster happens.
@acityinohio I thought you can't do that 'cuz it's on the blockchain 😇
@ssaurel Can't believe I forgot that one, I'm taking a mulligan.
💏🏻for💏🏻all💏🏻we💏🏻know💏🏻Robinhood💏🏻doesn't💏🏻have💏🏻any💏🏻bitcoin💏🏻
@jer979 Sure, but I'm seeking a scalable solution to informing folks about fundamentals.