@SkiingBlock Coercion is immoral regardless of who is being victimized.
@nvk NPC 67447419 reporting for duty!
Stablecoins are the very definition of unsound money.

And yet they still offer an order of magnitude improvement over wire transfers.
If you're programmatically encrypting data to N GPG pubkeys and any 1 of N keys expires… you're gonna have a bad time.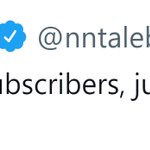 Looks like @nntaleb has taken 16,000 Ls. Still a mere fraction of the cyber hornet swarm. twitter.com/lopp/status/14… pic.twitter.com/9Pc0bGg9XR
20 years ago it cost tens of millions of dollars for a ticket to space.

Today it's less than a tenth of that.

Onl..twitter.com/i/web/status/1…4A
Today is a good day to contribute to the demise of central banking by writing more code.