@JoshLevitan @CardanoDan The referees decided to take a break and while they did, some spectators took control of the scoreboard.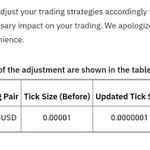 LUNA is hyperinflating so quickly that exchanges are having to update in order to support more decimal places. pic.twitter.com/Vk5zDmIvbK
Stability is expensive.

Volatility is free.
The mempool is a data structure in which Bitcoin nodes store unconfirmed transactions that have not been mined in a… https://t.co/IC89sDYoB6
As of today the TOTAL value of all 50+ forks of Bitcoin that were launched over the past 5 years has dropped below… https://t.co/b3sPI9LUQ5
During mania phases dozens of friends and family come out of the woodwork to ask if they should buy bitcoin.

This… https://t.co/Rqdy1ePSTl
Funny thing about "Bitcoin Dominance" metrics: every price site seems to have their own calculation and none of the… https://t.co/S0RWYva2Z8
Many Bitcoin maximalists being minted this week.