@CoinChomp It's quite silly. Assuming the 'jackpot' blocks are random, miners are still sharing same pie fairly based upon hash power.
@CoinChomp Apparently mining in and of itself isn't a gamble enough - we need to support gambling within our gambling! :-P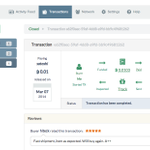 HashTrust Announcing SafeTX, an easy-to-use trustless bitcoin escrow service. hashtrust.com pic.twitter.com/dB49z0gmsC
nntaleb The ultimate test of freedom is whether you *have to* explain why you did something.
@polemitis The potential for death is half the fun of driving!
OH: "Calling it a [Bitcoin] wallet is stupid. You put coins in a purse, not a wallet."
@Newsweek @truth_eater LOL, keep sticking your head in the sand. I'm sure it will work out splendidly for you.
@CoinChomp "Lets Users Check Goxcoin Balances"