Revoking SSL certs via a CA has privacy implications: the CA learns who your customers are when they query for cert status. @sfbitcoindevs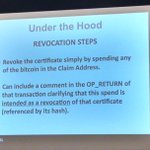 Revocable self signed SSL certs on the blockchain. @sfbitcoindevs pic.twitter.com/5y8BF5wkvj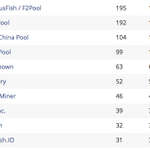 According to @blocktrail, @21dotco has ~4% of the total network hashing power. /cc @oocBlog pic.twitter.com/uB0S90cMMD
It's not clear to me what is going on this morning, but all of the blocks for the past few hours have been at the soft or hard size limit.
@jgarzik What's the largest block size the BitSats would be capable of handling?
oleganza Bitcoin "decentralization" cannot be meaningfully measured until meaningfully defined. What's important is whether *you* can safely use BTC.