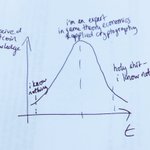 Melt_Dem for @lopp - this is the chart that was drawn for me my first week in #bitcoin 😂 pic.twitter.com/vrnaViPMkt
First step to understanding Bitcoin: admitting you don't understand Bitcoin.
Final step: realizing that "understanding" is a moving target.
You can be any of these things…
* whale investor
* early adopter
* C-level exec
* developer
* miner
… and still not understand Bitcoin.
malgorithms Introducing Keybase Chat! keybase.io/blog/keybase-c… pic.twitter.com/WHgiYqtOHM
@twobitidiot Have you tried any? They're getting better… maybe a few more generations and they'll be ready for mainstream usage.