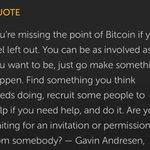 rogerkver Just as true today as when he first said it many years ago. Get involved with Bitcoin today! pic.twitter.com/TuQXAGi80o
There is a rich history of the early days of Bitcoin that isn't archived on forums or mailing lists. I hope we can save it before it's lost.
Reddit admins finally agreed that Michael Marquardt (AKA theymos) is a public figure due to this NY Times article. nytimes.com/2016/05/03/bus…
@SDLerner Are you confident that you'll be able to convince people to use your solution?
"Writing a description for this thing for general audiences is bloody hard. There's nothing to relate it to." - Satoshi Nakamoto
Anecdotal evidence: I haven't seen a single @BitGo customer ask if we will support Bitcoin Unlimited. Far cry from XT & Classic a year ago.
@TradeBlock FYI it looks like your SSL certificate expired…