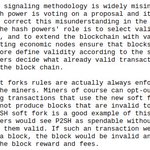 Welcome to the Bitcoin development mailing list, "shaolinfry" 👏🏻👏🏻👏🏻lists.linuxfoundation.org/pipermail/bitc… pic.twitter.com/CG5cfpFNBr
@Truthcoin When are you going to give the full length version of that talk?
"It's an engineering requirement that Bitcoin remains above the law." - @Truthcoin
@TradeBlock RED ALERT! Your Bitcoin node appears to be down.
@rogerkver AFAIK other malleability fixes require a hard fork and no Bitcoin wallets actually support them; would take longer to deploy…
@djinnius It gets complicated and depends on how "safe" of a hard fork is being attempted. I'd suggest hashpower follows economic power.
@djinnius A hard fork is when a set of people decides to agree to a new set of non-backward compatibles rules. Anyone can do that.
Bitcoin isn't political money inasmuch as changes can't be dictated by an elite. Perhaps it is philosophical money. twitter.com/lopp/status/83…
While the Bitcoin protocol determines consensus objectively, the means of determining changes to the objective consensus are subjective.