@bradmillscan It's unlikely to change because Bitcoin holders are highly incentivized to disagree with any proposal to change that rule.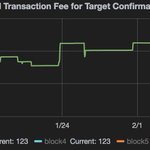 2-block target bitcoin transaction fee estimate is up 77% YTD to 138 satoshis per byte. pic.twitter.com/359X2rtYTT
"Satoshi didn't seek regulatory approval.
He didn't go to the UN or the Federal Trade Commission.
He just put it out there."
- Timothy May
"The street will find its own uses for technology. People don't need to be urged to use bitcoin." - Timothy May youtube.com/watch?v=TdmpAy…
Research paper compares private fiat currencies to Bitcoin & concludes digital currencies will be counterfeited. 🙄 coindesk.com/bank-of-canada…
@bradmillscan Basically: Bitcoin is whatever rules we agree upon (which can change), not a set of rules that Satoshi decided upon for us.