@el33th4xor Dragons are unknown unknowns - they will be there regardless of how they are portrayed.
No one who makes it to the bottom of the Bitcoin rabbit hole returns to tell the tale because there be dragons in t..twitter.com/i/web/status/9…Nh
@IronLotusPT I intend to liquidate any airdrops that achieve sufficient value to make the effort worth my time.
@VinnyLingham I can assure you that costs are being paid by someone.
Every day is Black Friday for long-term bitcoin HODLers. Keep your time preference low and your wallet frosty.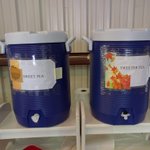 Signs you're in The South (of 'Murica) pic.twitter.com/9Cm5U3kk48
lopp If you're currently waiting on a new account at a Bitcoin exchange/broker to get verified and enabled, how long have you been waiting?
@twobitidiot Exchange sound money for unsound money? Madness!
Beleaguered Bitcoiners beset by butthurt: be bitter or become better builders.