@JessicaVaugn Don't think it really matters in the context of MAD. Nuclear powers have a tendency to avoid direct conflict.
@provoost If there's no difficulty bomb post-merge, how does Ethereum continue forcing hard forks? Tradition?
@Rein2222 Absolutely; you can't beat titanium.
Do AI image generators disrupt the stock photo industry?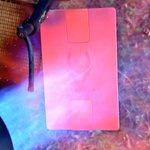 If you can't stand the heat, get out of the adversarial environment. pic.twitter.com/zUUTJ4Z0tb
"Born too late to explore the Earth, born too early to explore the stars."

This misguided meme is often used to ju..twitter.com/i/web/status/1…hd
@dragosroua I'm considering writing about my true passion - interpretive dance.
Looks like I've averaged 1.3 blog posts per month for the past decade.

How many thousand+ word articles == 1 book?