@thebitcoinrabbi Probably only a matter of time, but it will be a never-ending war until HTTP 402 support goes mainstream.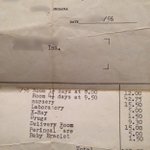 lopp Hospital bill for delivering a baby + 1 week recuperation in 1956. pic.twitter.com/SwNj8vgBEQ
When you see someone conflating criminality with immorality, that's when you can be sure they're a bootlicking statist.
Bitcoin did not appear out of thin air overnight. A rich history of efforts (and failures) by cypherpunks helped us..twitter.com/i/web/status/1…qS
When I publish a 5,000+ word article…

That IS the TL;DR.
lopp Great minds discuss Bitcoin.
Average minds discuss bitcoin.
Small minds discuss Bitcoiners.